Geothermal HVAC systems use the constant temperature of the earth to provide efficient, renewable heating and cooling. Underground, water-source pumps transfer heat in the winter from the earth to the building. In the summer, heat is extracted from the building and replaced with refrigerated air from within the system.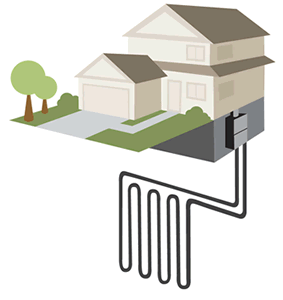 Geothermal heating and cooling is the best choice for HMC because it offers the lowest ongoing operating costs of all possible HVAC solutions examined. This will significantly improve the church's long-term financial future; energy costs currently account for at least 13% of the church budget and will be reduced by more than half by switching to Geothermal.
We will install a Closed-loop Vertical System on the West side of the church. A field of small vertical wells will be drilled to a depth up to 360 ft and fitted with pipes. Refrigerant (or water) will be pumped through the piping, to and from the building and passing through a series of heat transfer exchanges.
This type of system allows us to install the geothermal system despite limited space. Once completed, the area will be landscaped and returned to an attractive lawn, with no sight or sound of the geothermal system.
Addition benefits of geothermal energy for HMC include:
Lowest ongoing operating costs for the church of all possible HVAC solutions examined
Significant improvement to the church's long-term financial future
Ability to use the entire facility year-round
Quiet, individualized temperature controls in every room, which will improve the experience for all church users and significantly improve energy efficiency
Stabilized temperature and humidity in the sanctuary, a prerequisite for renovating the church organ (planned as Phase II of the Capital Campaign for a Sustainable Huguenot)
Aesthetically pleasing and preserves the historical beauty of the church
Innovative technology with lowest carbon footprint